Papa Chuk - "The Texas Roughneck" Original Demo Sessions (1992) CD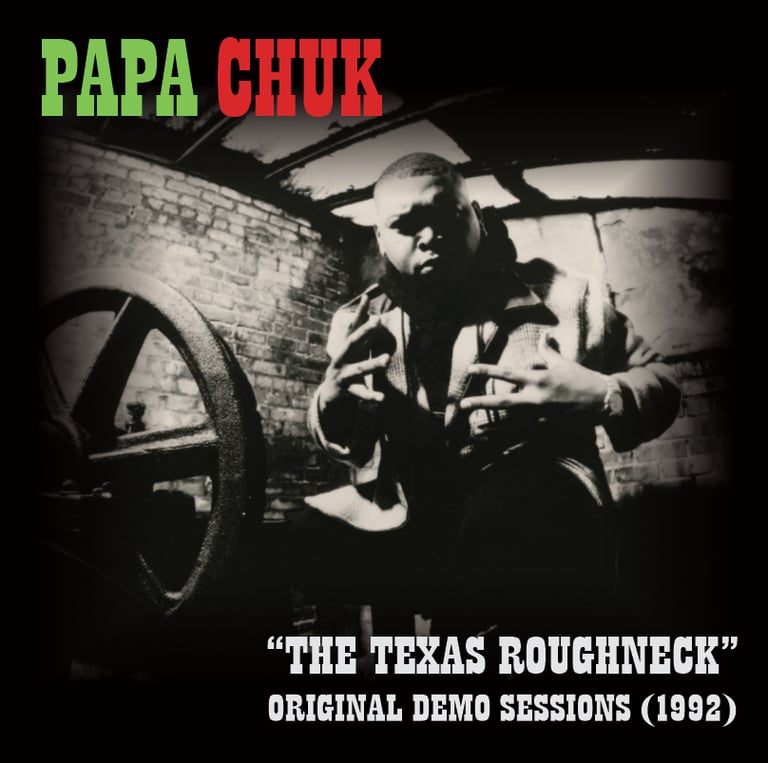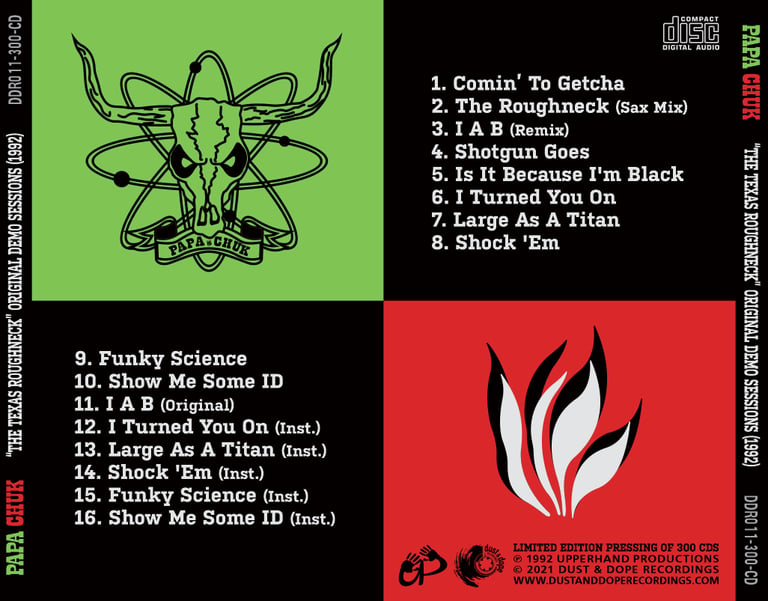 Papa Chuk - "The Texas Roughneck" Original Demo Sessions (1992) CD (DDR011-300-CD, Dust & Dope Recordings, 2021)
CD $17.99 CAD
PLEASE NOTE: All prices are in CAD (Canadian Dollars) not USD (United States Dollars). The shipping cost of 1-2 cd are the same so please select the "2x CDs" option when ordering doubles.
Shipping:
All orders ship as small packet air international via Canada Post. Depending on destination, the estimated arrival is 7-10 business days. All orders ship out within 3-4 business days.
Tracklisting:
01. Comin' To Getcha
02. The Roughneck (Sax Mix)
03. I A B (Remix)
04. Shotgun Goes
05. Is It Because I'm Black
06. I Turned You On
07. Large As A Titan
08. Shock 'Em
09. Funky Science
10. Show Some ID
11. I A B (Original)
12. I Turned You On (Instrumental)
13. Large As A Titan (Instrumental)
14. Shock 'Em (Instrumental)
15. Funky Science (Instrumental)
16. Show Some ID (Instrumental)
Before Papa Chuk's 1994 Pendulum Records debut, there was a previous album, a superior album, unheard until now. Produced and recorded in his hometown of Austin in 1992, The Texas Roughneck: Original Demo Sessions presents a rawer, harder hitting side of Chuk, with tighter and more dynamic production by his original partner, DJ Cassanova. Working directly with Cass, Dust & Dope Recordings have remastered his original DAT recordings to restore the complete, unreleased album on CD with five exclusive, bonus instrumental tracks and liner notes by Werner von Wallenrod in interview with DJ Cassanova himself.
- Limited edition run of 300 professionally pressed CDs.
- Limited edition vinyl also available from Chopped Herring Records.
- Professionally pressed CD in jewel case packaging, 4-page booklet with liner notes by Werner Von Wallenrod.
- Orders ship within 48 hours of purchase.
Snippets:
https://soundcloud.com/dustdope/papa-chuk-texas-roughneck-original-demo-sessions-1992-snippets-2021-dust-dope-recordings?si=6f63d00aafe646cdab7e494841a5efc2