Brothers Of The Same Mind - Gotta Have Style (CD) [DDR014-300-CD]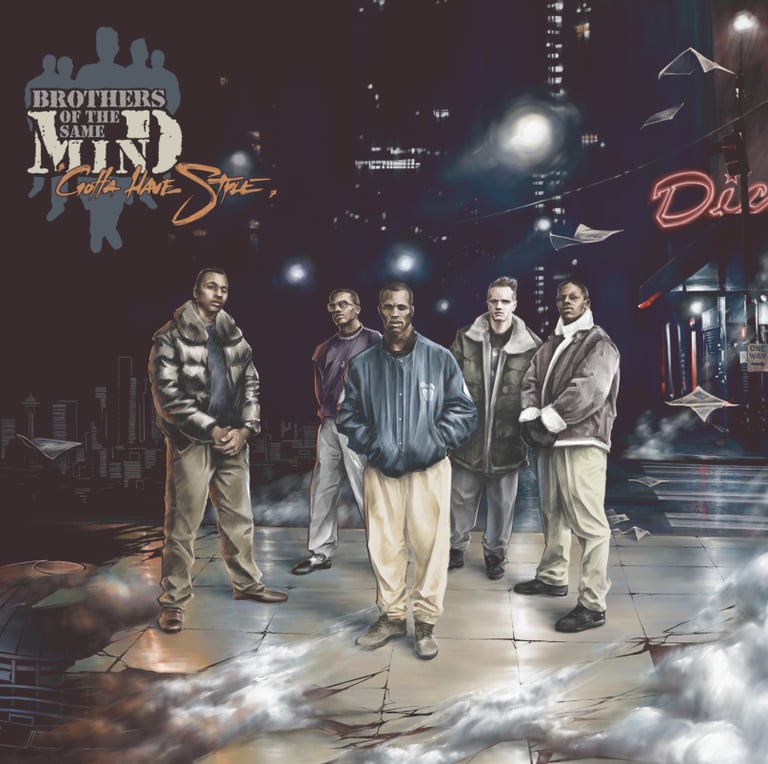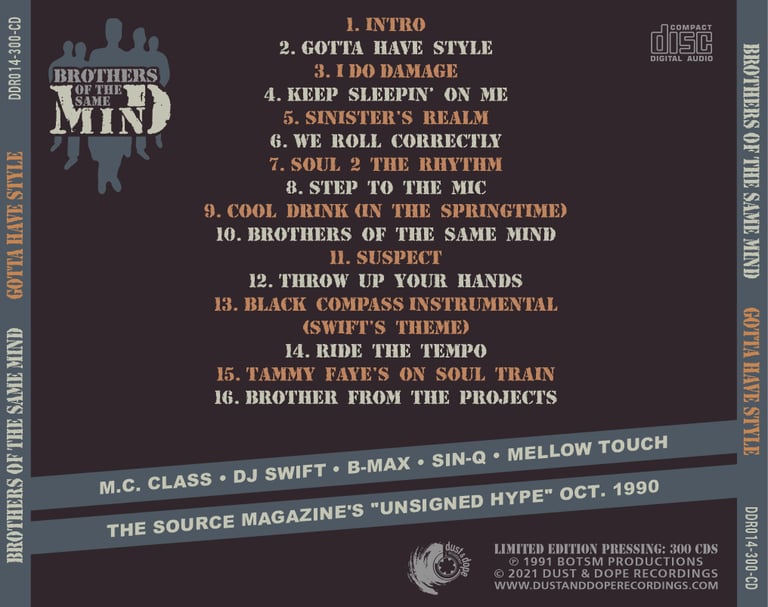 ***LOW STOCK***
Brothers Of The Same Mind - Gotta Have Style CD (DDR014-300-CD, Dust & Dope Recordings, 2021)
CD $21.99 CAD
PLEASE NOTE: All prices are in CAD (Canadian Dollars) not USD (United States Dollars).
Shipping:
All orders ship as small packet air international via Canada Post. Depending on destination, the estimated arrival is 7-10 business days. All orders ship out within 3-4 business days.
Tracklisting:
1. Gotta Have Style
2. I Do Damage
3. Keep Sleepin On Me
4. Sinister's Realm
5. We Roll Correctly
6. Soul 2 The Rhythm
7. Step To The Mic
8. Cool Drink (In The Springtime)
9. Brothers Of The Same Mind
10. Suspect
11. Throw Up Your Hands
12. Black Compass Instrumental (Swift's Theme)
13. Ride The Tempo
14. Tammy Faye's On Soul Train
15. Brother From The Projects
Brothers of the Same Mind are: M.C. Class, DJ Swift, B-Max, Sin-Q & Mellow Touch.
In celebration of its 30th Anniversary, Dust & Dope Recordings presents Gotta Have Style, the previously unreleased album by one of Seattle's best kept secrets. Featured in one of the very first Unsigned Hype columns, this five-man crew released one 12" single and an extremely rare cassette EP in 1991, however their full length album was permanently shelved... until now. This CD release features unheard, alternate recordings of the cuts from their EP, plus nine more completely unreleased, never before leaked, full-length songs. All tracks originally recorded 1989-1991, restored from their original DAT masters and expertly remastered by the legendary Earle Holder at HDQRTZ Mastering Studio.
- Limited edition run of 300 professionally pressed CDs in jewel case packaging
- 12-page booklet containing 10-page interview by Werner Von Wallenrod
- Bonus fold-out poster featuring cover artwork by Spek The Architek
- Mastered by Earle Holder at HDQTRZ Mastering Studio
- Orders ship within 3-4 business days of purchase
Snippets: